By Olaf Schulz-Lobeck
Immerse, let go, and indulge. Step into the exclusive world of relaxation, healing, and empowerment. Be surrounded by your peers. Be supported by the very best in holistic medical care.
You're invited to experience The F.X. Mayr Retreat luxurious suites sequestered within boutique ecological wonderlands. Easily accessible yet worlds away, our retreats offer lush green landscapes and an optimal environment for you to focus on healing and cultivating emotional well-being.
At each retreat, you will undoubtedly enjoy your stay but also walk away with a rejuvenated body, transformed mental outlook, and healthier habits for yourself, your family, and your friends. As a result, your quality of life will be enriched at the moment and well into the future.
The F.X. Mayr Retreat:
Rendering Bay View

The F.X. Mayr Detoxification Cure is the standout medical program among all The F.X. Mayr Retreats. Using a cutting-edge "body-mind-soul-social" approach, the program integrates your living conditions to design a prevention, healing, and regeneration plan just for you.
At F.X. Mayr, we understand the dynamics of your demanding days and the damage stress can inflict on your body, mind, and daily life. As a consequence of the increasing demands of our performance-driven society, we can start to show symptoms such as body pain, memory loss, fatigue, indigestion, insomnia, a weakened immune system, headaches, and dizziness.
F.X. Mayr Retreat:
Rendering Bird View

Digestive System: The mother of almost all diseases
Individual health and well-being are universal desires shared by people across all ages, incomes, beliefs, cultures, and continents. The wish to be free of diseases, to age well as we live longer, and to enable our minds, bodies, and spirits to fulfil their potential are as old as civilization itself.
Democritus wrote in 450 BC: "Humans implore the gods for health. However, they do not think of the fact that the preservation thereof lies in their own hands. Their excessiveness makes them traitors of their own health." Nowadays, his words still ring true:
prevention is better than cure
good health can't be bought
a physician can never give us good health
we are responsible for earning our good health, either through our own efforts or by working with experts
we cannot achieve any fundamental improvement in our health as long as we maintain bad habits
Our physical condition largely determines our lifestyles and eating habits.; we decide the fate of our health trajectory
Traditional Chinese Medicine says: "The stomach is the centre of life. A hundred diseases are rooted there. Therefore, healing always requires the patient's cooperation."
With his diagnostic of a good health philosophy, Dr F.X. Mayr discovered that chronic digesting damage makes a person sick, prematurely old, and unattractive.
Mayr medicine mixes alternative, comprehensive Medicine with customized holistic treatments to align with your individual needs and expectations.
What's different?
To provide the best possible immediate and long-lasting results, we at F.X. Mayr have established a service culture as you've never experienced before. Our focus is on you. We avoid unnecessary complexity. Simplicity is our approach. If you wish, we will manage your entire journey so that you only need to pack your suitcase and bring it yourself.
F.X. Mayr Retreat:
Rendering Bird View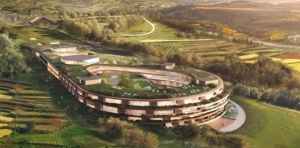 Please note that if your first body cleansing or your digestive system conditions are not ideal, we recommend you stay at our retreat for at least 12 to 14 days. This way, you will achieve the best possible results and learn how to integrate your achievements into your daily life.
People without any F.X. Mayr Detoxification Cure experience may think 12 to 14 days sound like way too many. But think, are 14 days out of the whole year so many if they make you feel happier, more agile, and more attractive and help you fight diseases and live longer? We think it's worth it.