by Nina He (何晶晶), a Chinese citizen
My fate with FX Mayr started in a dark place. When my grandmother died of cancer in 2015, I decided to drop everything and reroute my career path toward the health industry. Even though I had no experience, I wanted to start my own business. I knew I owed it to my family members who'd been ill and also to myself.
In 2016, at the launch of the online medical brand "鹿管家," I met Stacy Sun, President of FX Mayr China. We didn't talk that day, but we did exchange contact information. A couple of years later, after I'd experienced several years of entrepreneurship and the physical and mental exhaustion that goes along with it, I reached out to Stacy.
She suggested I go to Austria to experience The Original F.X. Mayr at lake Woerther in Carinthia. So naturally, I jumped at the opportunity to relax and heal myself physically and mentally fully. When I arrived, the medical hotel looked like a cosy little castle. We arrived in Maria Woerth at around 9:00 p.m., but it wasn't completely dark. It was, however, totally peaceful. In the room, a light broth and two tortillas had been prepared for me. I also got a body acid discharging powder to drink the next morning and coconut oil to improve my oral health. The room was furnished so comfortably that it felt just like home. I took a deep breath and immediately relaxed.
F.X. Mayr Cure Epsom Salt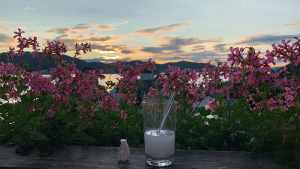 The Original F.X. Mayr Health Center
I woke up naturally around 5 a.m. the next morning. It was the first official day of my healing trip, and I was curious and excited about how the day would unfold. I was hungry, so I drank the acid powder to start the day. After we showered, we came to the restaurant to have breakfast. Compared to most hotels I've been to, this restaurant was tranquil. Everyone chewed their food very carefully and quietly. Nobody uttered a word. I was expecting a good meal, sure. But the silence was a bit surprising. I then realized I had come to a very different kind of hotel. A coarse grain cake and a small jar of sheep's yoghurt were for breakfast. Stacy taught me how to eat breakfast correctly. Each bite should be thoroughly chewed 30 times. At first, I was not used to this. However, I also found it very interesting.
My Private Doctor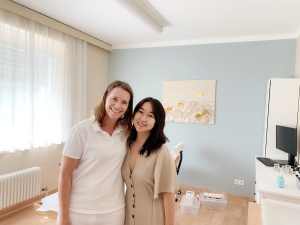 After breakfast, I saw the doctor for the first time. I took out the medical report I had prepared in China. The appointment took about 30 minutes. The doctor helped me to make my healing plan. Lunch was at noon. On the menu? A delicate vegetable soup and buckwheat bread with a bit of cheese. In the afternoon, Stacy gave me a tour of the facilities and environment of the whole hotel. Dinner consisted of, you guessed it! Another bowl of soup, just more apparent… I was also asked to sip it with a tiny spoon. I was still getting used to it and still a little hungry after these meals. But then, it was time to listen to the doctor's plan. I respected these rules.
My F.X. Mayr Programs
I received my treatment plan after dinner. There was a plan for every period. For example, the early morning consisted mainly of team sports, diet therapy, physical therapy, activities in the countryside, and other courses. The doctor would tell me the principles behind every type of experience so that I could understand my body better, think about my habits, and learn how they affect my health. I had never felt so much about myself before. It's easy to ignore these aspects of ourselves and our daily lives. In the past, I didn't use systematic methods to address these issues, even if they required common sense to prevent extreme harm. FX Mayr's physical therapy is highly comfortable and full of relaxation. For example, during every physical therapy session, I fell asleep within a few seconds and woke up refreshed. Whether it's about the hotel's design, activities, or facilities, they are all so thoughtfully done. Each experience entirely relieved the anxiety I had during my entrepreneurship experience.
Our Hiking Activities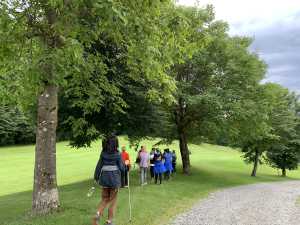 I liked taking part in outdoor hiking activities in the evening. We walked for more than an hour, often through forests, across the grass, and around the lake. We would watch the sunset and horses. I have never felt so alive. Communication is also a priority. We encouraged and communicated with one another a lot. At FX Mayr, I felt independent, quiet, private, and part of a family. Most of the European guests are seasoned members, and a few of them are from Asia. Sometimes we would interact in group activities. They come here every year to work on their healing. I met some artists and entrepreneurs, as well as former athletes. Celebrities, writers, and freelancers come here as part of their lifestyle. It's become like their second home or the harbour of their hearts.
Breakfast at The Original F.X. Mayr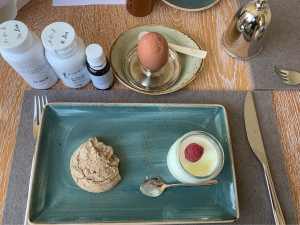 After about a week, I wanted to visit the small town. Even though Mayr therapy doesn't recommend eating food other than what Mayr therapy suggests, I was curious to try the local food too. I begged Stacy to take me to a local restaurant. We found a restaurant and ordered some food. I couldn't even finish two bites. We both stuck out our tongues. I said, "I still think FX Mayr's food is the best to eat, even if the ingredients and process aren't comparable to a Michelin-star restaurant." We had gone through the whole process of deep detox and cleansing as part of our diet therapy, which is different from Pigu (fasting) in China. It was challenging but rewarding, just like it's a challenge for us to control our daily habits, listening to our minds without considering what our body needs. FX Mayr therapy is very scientific. It not only uses Mayr's unique detox therapy but also combines modern medicine and precise nutrition to balance the body's organs.
After about a week, many guests became more familiar with one another. We would say hello when we had breakfast. You could notice how tired and lost guests looked when they first arrived. But as time passed, you started to see everyone smiling more, blooming, relaxing, being more friendly, and opening their hearts. Everyone started to change.
FX Mayr's membership system even allowed me to have a behind-the-scenes look at how the hotel operates. Every corner was spotless and orderly, but you didn't notice when they did the cleaning. Maybe the members have very high standards. No matter the time of day, the rooms are bright and clean. The herbal soups are carefully prepared everywhere, and the staff smiles when they serve them. You can lounge on the sofa in the public area when you have free time. Some read quietly or bask in the sun by the lake after lunch. It's always so quiet, which calms your heart. I believe that the operations and management level behind The Original F.X. Mayr is supportive, soft, and practical for every member.
After 11 days, my healing journey was coming to an end. I was reluctant to leave, given I had stayed present with myself every day. I was used to living with nature, listening to my body, being in awe of Mayr therapy's hundred-year history, feeling the sunshine and the air, enjoying the delicacies of every dish, and feeling part of the Mayr family. However, I had started to change, which began with my heart. Intellectually, I'm looking forward to embracing these changes. I'm in love with the FX Mayr method, and I hope philosophy can become an integral part of my life.
My Life-Changing Experience
During my physical exam in China, the doctor prescribed me a lot of drugs. I have a severe stomach disease, frequent stomach pain, a poor endocrine system, fatigue, and emotional anxiety. After my FX Mayr experience, these issues have been gone. FX Mayr has brought me internal changes, which should be sustainable.
I'm looking forward to the journey.
First time in my life I have been swimming in a lake!
China is currently fighting the novel coronavirus epidemic. China has slowed down. Feelings of confusion over prevention measures and fear of the unknown are expected. But also, more than a billion people are concerned about one thing. How can people prevent the spread of the virus? How can they avoid being infected? We isolate ourselves, disinfect, and pay attention to the daily data. We begin to recognize how strong immunity is for resisting viruses. We realize that there is nothing without health. As a global community, we resonate with one another.
In the past 40 years of China's reform and opening-up, not to mention 5,000 years of history, we have experienced hardships and challenges. China's economy has attracted worldwide attention. We are moving from a material civilization to a spiritual enlightenment. Now is the best time for us to learn how to be quiet. If we can do this, we will begin to return to ourselves and hear our inner voice. After we face this challenge together, China's health industry and real value awareness will return. As a member of the health industry, I will strive to boost people's physical and mental health, which is the direction and goal of our efforts.
China will become stronger and stronger, and our nation will improve. World peace and ecological balance.